An official definition adopted by the Fluid Controls institute for Basket Strainer is : "A closed vessel with cleanable screen element designed to remove and retain foreign particles. Note the term "foreign particles". Basket Strainers do not necessarily remove only dirt. They take out material which is not wanted in the fluid and this can sometime be a valuable product which may be saved.
These strainers can be offered in Simplex , Duplex type depending on your process requirements. The Duplex strainers are offered with diverting valves. These strainers are offered with flush , drain connections with ball valves as the standard feature. We have fabricated & commissioned these strainers with Rotor & motor assembly with self cleaning for viscous fluids such as fibrous solutions , pulp. These strainers can be offered with various automations considering the process requirements.
Basket Strainers can be offered with PERMANENT MAGNETS, which will separate magnetic dust fromthe liquids easily. Such strainers are recommended in Steel plants ,Rolling Mills , Ore,Mining Industry, Automotive Industry.
Sizes - 15mmto 2000mm.
Materials - CS,Fabricated steel , SS 304 , SS 316 , PP , Higher alloy steels on request. End Connections - Flanged ends to BS , ANSI stds., BWE.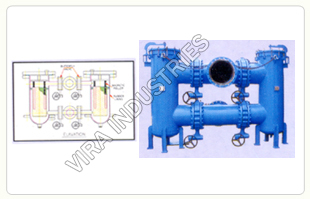 Pressure - Upto 28 bar
Temp. - Cryogenic to 600 C
Basket type strainers can be offered with jacket for heating considering the application where there is a possibility of liquid getting solidify such as LDO, FO, Molten Sulphar.
The base strainer can be offered in various material with jacket as CS suitable for the pressures & temperatures as mentioned.